The internet has brought about some amazing opportunities for businesses. On the product and service side, there are a million ways to make your offering more robust, as well as a million ways to be in constant contact with your user. Review sites with feedback functionality have now become standard practice in many online sites and forums, including Amazon and Google.
Whether the feedback surrounds product, service or establishment, people are paying attention. Those people are looking to your reviews for more than purchasing decisions. In fact, many job aggregate sites provide employees the ability review companies alongside job postings. And professionals are looking to those reviews before making a career change.
Are you ready for post-college recruiting season?
Prepare with this checklist: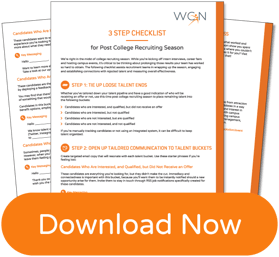 Sometimes the talk around employers isn't all that complimentary. Dealing with negative employee reviews can be a hit to the ego, but more importantly, the next steps your company takes can make all the difference in securing a positive employer brand in the eyes of talent. The following 3 tips will turn negative employee reviews into positive employer experiences. And keep your reputation in tact!
If you have yet to receive a negative review, keep this advice near. Even award-winning employers fall down sometimes. Are you prepared?
Take All Reviews Seriously… and Respond
When you catch wind of a negative employee review on sites like Glassdoor, do not immediately discredit it. It's natural to not realize the impact it may have on your brand. Even if it is one criticism among hundreds of compliments, it holds value and you can't let them fall by the wayside. In fact, nearly half of all job seekers research employers on Glassdoor at some point during their job search, according to Software Advice. Additionally, the survey found that 40% of respondents said they would apply to a company as long is it had one star, a third of job seekers said a company needed at least a three-star rating in order to apply. Therefore, ignoring a negative review on Glassdoor can actually do a lot of damage to your reputation as an employer.

Some researchers suggest that for every complaint, 26 additional customers were unsatisfied with the same problem, but remained silent. Before reacting, take time to understand what it is that the reviewer mentioned as an issue and how you might be able to approach a solution to the problem.
Your first step in responding to negative employer reviews: DON'T discredit them. Read more:Tweet This
"By responding, you are showing that you are interested in feedback that has been left and that you take the reviews seriously. When responding you want to be methodical and not just do it on a whim…" -Laura Lake (@laura_lake), Marketing Manager
Sometimes you might have to discuss the problem with your team or managers. Sometimes you can see the issue yourself after a bit of reflection or more time working among your employees. There's also nothing wrong with organizing an anonymous employee survey to capture more insight.
For example, take a look at this excerpt from our latest article on gathering interview feedback from candidates to drive a better candidate experience:
Interview Feedback to Provide a Positive Candidate Experience
From: Interviewer
To: Candidate
Candidate feedback lets the candidate know where they stand in the process and doesn't keep them guessing. With today's tools in the ATS or CRM, this is the one kind of feedback it's NOT okay to miss. This narrative from FastCompany shows a candidate's perspective, waiting to hear back from the interviewer:
When Joseph Waites* first applied for a new job in early November, he had no idea it would take over a month before he'd hear from anyone. After six weeks, an email arrived to invite him to his first interview. A second was scheduled within a few days. Waites was hopeful, especially after the employer sent him an assignment so that he could prove he had the right stuff for the job.
If you haven't heard back, write and email, she advises, "up to three times over a two-week period."
Once he completed and submitted it, the hiring manager responded within the hour, saying they would look at it over the weekend. The following week came and went. Then another, and still another passed. Waites was eager to hear either way, so he sent the hiring manager another email–after nearly four weeks had gone by.
"Just checking in on what the results on this test run were. Even if it's negative, just would like an update," he wrote. Waites added another line emphasizing something they'd specifically discussed in their meeting, then signed off. The next day, the hiring manager replied with an apology for the delayed response.
To Do: 33% of job seekers say they want an automated email sent to them after applying. Set-up automated emails to send to candidates immediately after the interview is complete. We recommend the email should be sent within the next 48 hours from the time the interview is complete. It doesn't have to give any status information, just as long as it acknowledges the interview was complete and that the team is reviewing them. However, recruiters and hiring managers should put a system in place that ensures the candidate is communicated with at least every 48 hours to one week during the interview process (a combination of automated and actual communication is fine).
Whatever you do, be sure you're taking action upon reading a review. The hope is that you can quickly understand the root of the problem and respond to the review with a genuine apology and solution.
Above all, be sure you respond to the review. At the very least, assure the employee/ex-employee reviewer that their complaint is being looked into and taken seriously. If you encounter a "troll" simply disengage after the first response if they are not willing to be appeased.
Remain Positive in Your Response
Yes, responding is so important that it bears repeating. If you do not respond or choose to in a private manner, you lose the opportunity to express to visitors just how much you value criticism and the happiness of your workforce.
In all ways, remain positive. That includes both in life and in your crafted response to the reviewer. It's never fun to hear a critical view of something you care so deeply about, but remember that a company is more than you. It's your clients, employees, investors and anyone else who has a stake in successes - and they are all watching how you respond. That's a lot of pressure, so a complaint can be all it takes to push your calm and collected demeanor over the edge. When a bad review comes rolling in, do not panic or act in haste. Before being among your employees, take a moment to yourself and consider what there is to be learned from the feedback.
If you call a meeting with your employees or managers, try not to be accusatory or belittle their thoughts. These individuals might share the feelings of your employee reviewer and the way you approach them could influence morale and how willing they are to offer solutions (and future positive reviews of their own). And again, when responding to the review, be upbeat.
Should you respond to negative employer reviews in public or private? Read this:Tweet This
Thank the individual for their input and explain how the company plans to improve because of it. If you want to take the conversation offline, feel free to provide a way to contact you, but make sure the first response is public.
Remember: Negative reviews will be centered around a frustration with part of your recruitment process. Whether your candidate didn't hear back or had a poor interviewing experience, responding with "I'm sorry for your frustration or bad experience with us" will not suffice. Be specific in how you are remedying the part of the process that has caused frustration so future candidates can see your team has taken action to solve it.
Create a Strategic Game Plan
This is probably one of the most intense steps, but it is so important to the future of your employer branding and reputation maintenance. Whether you've received a few negative reviews or have yet to experience the challenge, being proactive inassessing your online reputation will only bring reward.
· Actively manage reviews by establishing Google Alerts that notify you when your company is mentioned on the web.
· Also try to claim your company profile on review sites like Glassdoor, so that you will receive updates as soon as reviews are left.
· Pay attention to Google reviews, Facebook, and if you are a consumer-focused company, try focusing on Yelp as well.
· Be proactive in asking for positive reviews in these areas, particularly from hiring managers, who will understand the importance of great reviews.
Of course, managing your reputation and employer brand should actually begin right within the walls of your office. Work on making your company's culture employee-focused by conducting annual employee satisfaction surveys and taking the results to heart. Solicit feedback and discuss career trajectory and goals in employee performance reviews or regularly in meetings. Additionally, discuss the candidate experience with new hires to see how your process is being perceived by new talent. The more you work on this, the more organic and genuine your culture will be on and off the web. People will rarely review your company unless they've had a terrible experience or they're already gone. So request reviews and feedback before a shift occurs. But ask, do NOT force. There is a middle ground.
As HR expert, Suzanne Lucas (@RealEvilHRLady) reminds:
"You can bully your current employees into writing positive reviews and you can threaten and sue to try to get things taken [off] the internet, but that will increase your bad press and won't solve your underlying problem."
A negative review isn't the curse many believe it to be. Initially, the criticism can sting, but the feedback can open your eyes to real problems your workforce is facing. By addressing the reviews, you're making improvements to your recruitment process that you would have never seen otherwise.
To Do: Make it a practice to comb through employer reviews once a month with your recruitment team and make it a transparent process.
WCN's recruiting software helps organizations prioritize their recruiting process by streamlining the entire hiring process from sourcing to soliciting feedback from candidates and new employees. Ensure a transparent hiring and interviewing process that leaves all candidates feeling valued with WCN. Learn more about how WCN can help you.