The high-volume functions within your organization can be one of the most difficult to recruit in. Industries like healthcare, hospitality and retail can get hit hard with high turnover rates and a surplus of entry-level workers. Recruiting for a customer support center and other customer service functions can be a mess with canceled interviews and unprepared candidates running rampant!
Tweet This: The ultimate buyer's guide for high-volume recruiting, right here: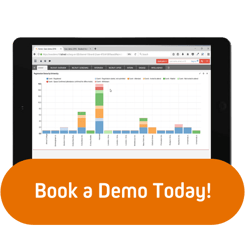 Therefore, having the right recruiting software on your side is non-negotiable… and with thousands of platforms out there all touting to be the best, the buying process can get quite muddy with so many solutions to choose from.
This guide provides a clear overview of the challenges high-volume recruiters face, the solutions made available through recruiting technology and the key recruiting software features each organization should consider before selecting the right system for them.
HIGH-VOLUME RECRUITMENT CHALLENGES
The Cut-Throat Reality of High-Volume Recruiting:
Fill multiple positions per day
Meet tight deadlines
Bonuses-based on metrics
Difficulty managing volume of candidates, overloaded
Slow moving, complex interview and offer processes
Can't jeopardize quality of candidates
Pressure to engage and keep candidates engaged
Provide positive candidate experience at all times
Unprepared for intense competition
Antiquated metrics
Attracting unfit candidates
"The large candidate pools for mostly entry-level jobs that high-volume recruiters source from can offer nearly unlimited choices, but must be constantly managed through the talent pipeline due to high turnover and candidate fall-off rates."- Roy Maurer, SHRM Editor
ASK THIS OF THE SOLUTION
All of the above can be managed with the right talent acquisition software to organize and streamline the entire high-volume recruiting process. Before you evaluate potential recruiting software, ask yourself:
How can talent acquisition software best serve us? - Are you struggling just to get candidates in the door? Then a robust applicant tracking system focused on sourcing and job post distribution is your best bet. If a lack of candidates isn't your problem, but managing the influx of them is, then look for an ATS that provides scheduling and internal management for interviewing and screening functions.

How important is compliance? High-volume recruiting tends to happen in industries that also require tight compliance, like healthcare.

How many hires do you need to make and how? Hiring 100 people for 100 different roles is different than hiring 100 people for 1 role. Map our your exact hiring needs in terms of roles/vacancies and the amount of people needed. Some high-volume recruiting solutions may tout they can hire multiple people at once, but might not have the capabilities you truly need say you were to hire 100 people for one specific role.

What is your price point? Applicant tracking systems are available at all price points. Don't be fooled by a large price tag and assume everything you need will be covered and vice-versa.
Ready to read the rest? Our guide provides a clear overview of the challenges high-volume recruiters face and the solutions made available through recruiting technology.
Download your copy of the High-Volume Recruiting Buyer's Guide!