WCN partnered with employer branding thought leader, Universum, to explore how current recruiting insights can be improved. With these insights, organizations can devote more time to focused value-add activities and improve their engagement and influence with the best hires before their competitors. As top recruiters continue to receive huge numbers of applications but only have limited amounts of roles that can be filled by student talent – WCN analysis points to approximately 2% of the total number of applications submitted, the pressure to win top talent into a business has never been so intense.
Download @WCN_eRec's Must-Know Student Recruiting Trends for 2018 report today!Tweet This!
Students are more empowered than ever before to choose where they start their professional careers. Recruiters in turn are aware of mounting competition, which is ramping up business pressures to recruit faster and be more agile. Having more year round campus presence and accelerated processes is becoming the norm for time-stretched and business savvy talent acquisition teams.
To compile this research study, WCN reviewed anonymous application data captured in its applicant tracking system (ATS). The analysis covered almost 990,000 candidates based in over 200 dfferent countries and focused on roles based in the UK, US and across the APAC region. Trends are based on the 2016 and 2017 recruiting cycles and span nance, retail and public sector organizations.
Universum provided WCN with access to data extracts from its 2017 Talent Insight reports series, focused on four key markets – Hong Kong, Singapore, UK and the US. For the purposes of this report, we concentrated on responses from almost 40,000 business students across the four regions.
In order to understand what factors shift student expectations, our first point of inspiration was to look at why students felt an employer would not be ideal for them. Figure 1 shows reasons why students in the US told Universum an employer would not be an ideal target for them to apply to.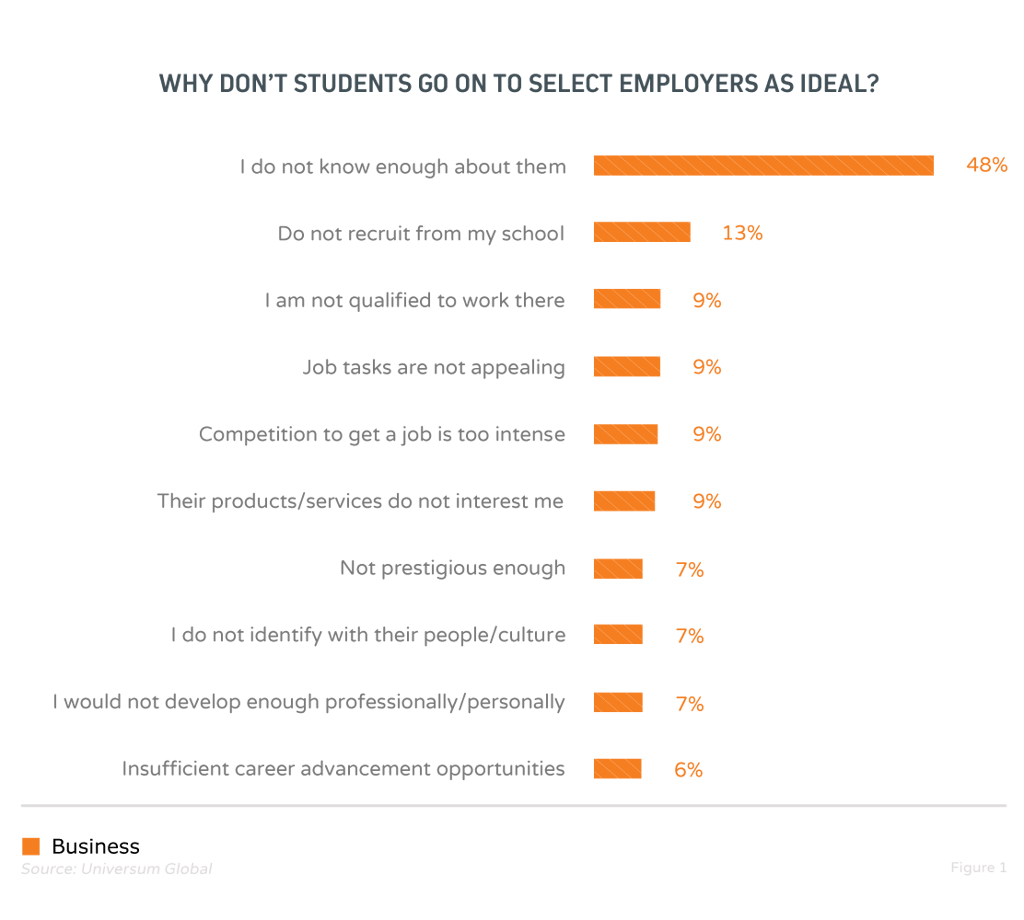 Similar trends can also be seen in what UK students say are the drivers that inspire their choices of graduate or rotation programs.
Wondering why students choose one company over the other? Find out in @WCN_eRec's Must-Know Student Recruiting Trends for 2018 report.Tweet This!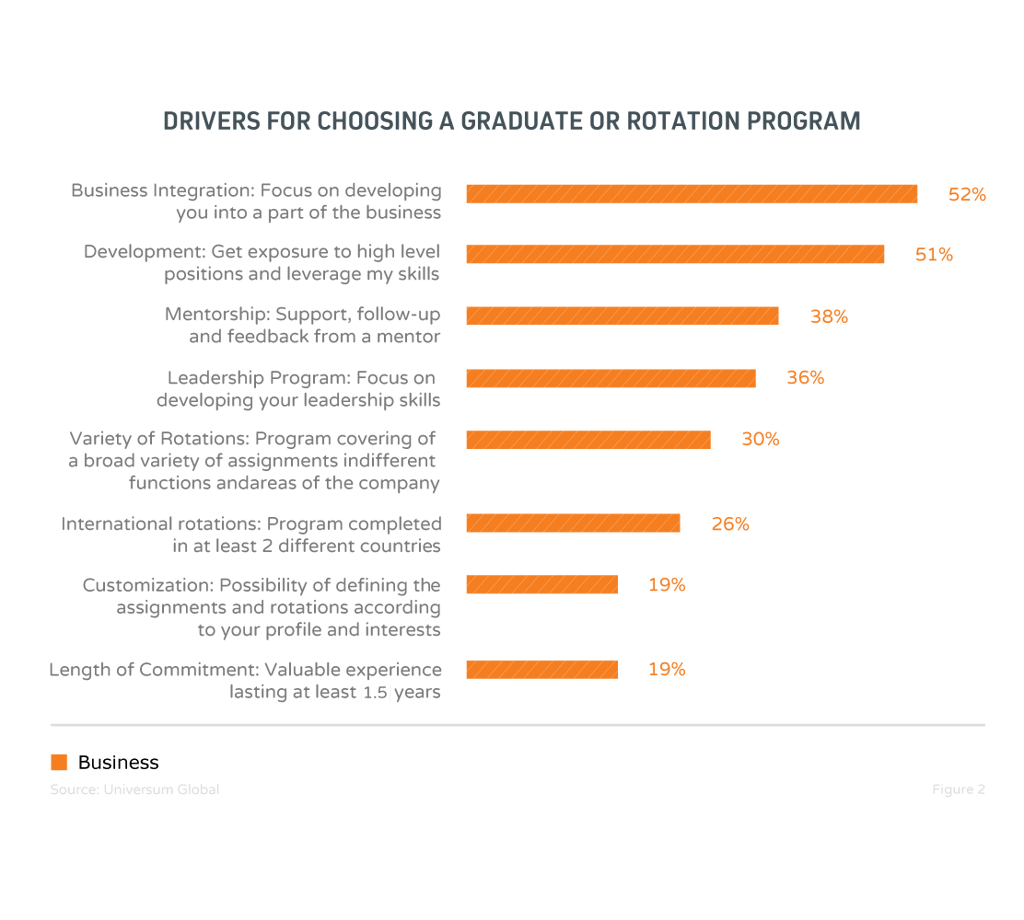 Understanding what students said deterred interest, we then sought to analyze a large sample of applications to employers who have an established brand identity either internationally or in their native country. We followed the lead on the results in Figure 1 to review several factors including school spread, withdrawal rates, level of competition, gender mix, ethnic diversity mix, reneging or decline rates and willingness to hire internationally.
Based on the analysis conducted by WCN, the following global conclusions can be reached:
Competition is tougher than you might imagine – Across the 990,000 applications reviewed for high-volume recruiters, we saw an average of 50,000 students applying for graduate/campus programs (which have several different positions available across businesses rather than just management traineeships). Of those applying, only approximately 2% make it to the o ers stage, whereas an average of 70% of candidates nd themselves screened out from the start.
Fallout rates are big, so engagement is king - Decline, withdraw and renege rates vary across the world but a universal finding is that from the thousands applying, the numbers falling into one of these three groupings are consistently in the hundreds – further proof of the frantic competition inherent in graduate hiring and the need to work harder in engagement and hosting events dedicated to nurturing in the process.
Diversity continues to be a big challenge in student hiring – Female applications underwhelm male applications in quantity but females are more successful than men at receiving offers. Research by WCN and University College London shows that even in blind screening, the language used to answer questions can in uence invites to interview and more can be done to help recruiters understand how to break unconscious bias traits.
Immigration is a booming area among graduates – Despite ever-changing political climates, more and more overseas students are applying for roles outside of their country of nationality looking to experience work in different offices and nurture their desires to travel etc. The numbers securing roles varies but are prominent in the UK despite the Brexit vote, while large numbers of UK applicants are finding success in APAC o ces and Canadians cross the border to work in the US.
The prominence of elite universities is also a mixed bag - The analysis of US data shows less leaning towards students with Ivy League backgrounds, UK data shows a bigger leaning towards Russell Group universities despite criticism from social mobility lobbyists.
Gaps in ethnicity still exist – There is a gap in roles being filled by Black and Hispanics across all regions (though most notable in the US and UK where the population percentages are higher than the numbers being employed). This could be eased by more diversity focus by organizations both on and offline.
Full regional breakdowns of how graduate recruiting is performing based on office locations can be found in the sections that follow.
WCN then compared these to the engagement research conducted by Universum to identify how recruiters can deliver more year round campus presence and accelerated processes in order to improve upon success of cutting withdrawals, declines and reneging in the long term. The illustration below shows Universum's four pillars for recruiters to consider in branding efforts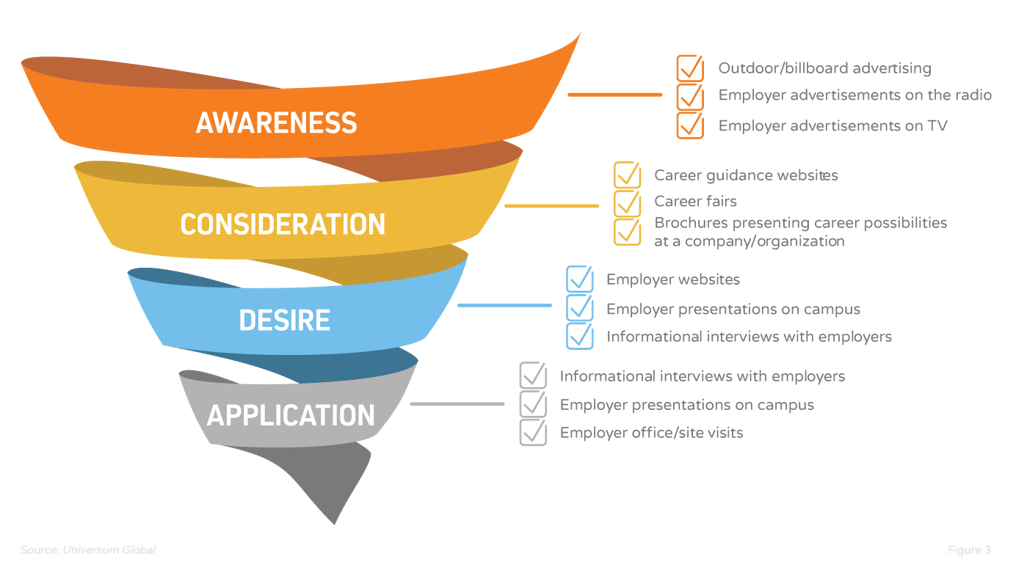 Universum's Data Reveals Stark Insights Into What Students Expect To Choose An Employer As Ideal For Them Including:
48% of students would not choose an employer as ideal if they do not know enough about them and 13% would be put off if they felt employers did not recruit from their school.
Top drivers for choosing a graduate/rotational program include demonstrating business integration (52%), development opportunities (51%), mentorship (28%), leadership programs (36%) and having a variety of rotations (30%).
In every country profiled, having a work/life balance and offering security/stability in jobs were ranked as the top two career goals for business students. Being a leader or manager of people was third everywhere but Hong Kong where having an international career took precedence.
In every country profiled, working for an international company/organization or working for a privately-owned national company/organization were the top choices for what students most want to do after graduation.
Working in a friendly work environment was the top attraction preference for students in APAC but was much lower in the UK and US where high future earnings (UK) and leaders who will support personal development (US) were most important. Professional training and development appeared in the top 5 for all regions.
Universally across all regions, students selected social media as the most used and most effective communication channel and Facebook as the best of these websites. Employer websites and career fairs were second and third in every study.
Sample quotes from US students to Universum illustrated here show just why engagement is so powerful to their career selections: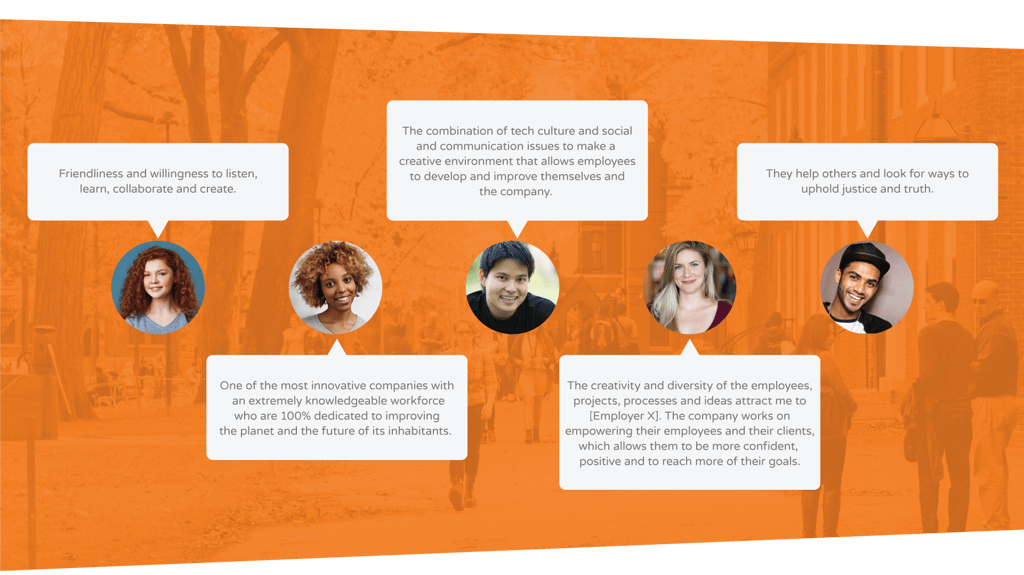 WCN then coupled this with its own research amongst a network of over 200 emerging talent recruiters to identify their pain points across UK, US and APAC. The results are shown in the infographic.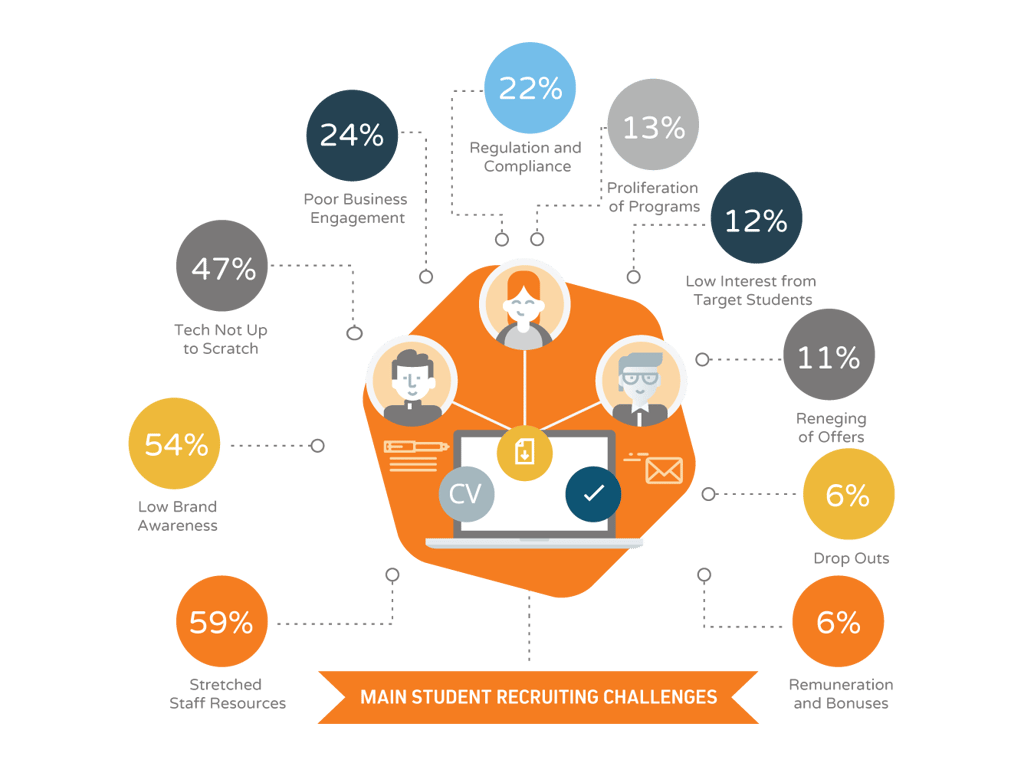 Stretched staff resourcing and low brand awareness are the primary challenges for student recruiters with poor business engagement and regulatory changes also causing concern. Technology also appears to be slightly immature in the US in the eyes of recruiters.
Events are a big driver for engaging with future leaders complemented by support from brand ambassadors on campus. Communication is also important both digitally via social media, forums, dedicated careers pages and newsletters as well as growing use of video interviewing to test personalities more in-depth.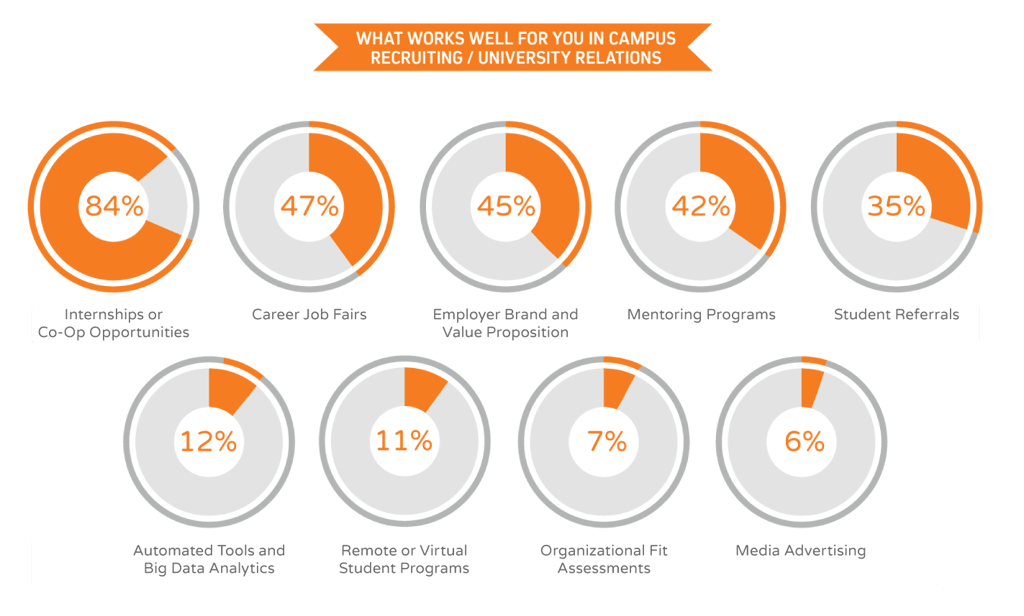 Positive impressions from internships and co-op placements are a valuable source of finding emerging talent; on a wider basis student referrals and mentoring programs seem to be successful. Many recruiters also pointed out that investing in their EVP is helping to preserve advocacy.
Each Chapter Includes Case Studies of Successful Student Recruitment Changes and Universum's Research Snippets Covering The Following:
Local talent insights
Top 5 preferences for attractive attributes in an employer
Career goals
What students want to do most after graduation
Most used and most effective communication channels for students
Section 6 highlights the key talking points that can be extracted from this study and points to significant new academic-backed research to consider in your future blind screening endeavors.
Download The Must-Know Student Recruiting Trends for 2018 report and investigate this trend further to see how current recruiting insights can be improved upon by looking to engage and influence the best hires before competitors by devoting more time on focused value add activities.