To get a idea of the challenges faced in the United Kingdom, we first looked at the local insights observed by Universum's expert teams. Check out the findings below!
United Kingdom Findings
Preferred Industries
Banks are the most preferred industry overall for Business students, overtaking Management and Strategy Consulting. However, male students tend to choose Banks more, with women preferring Management and Strategy Consulting. Engineering/IT students are more aligned by gender, with both most wanting to work for Software and Computer Services.
Download @WCN_eRec's Must-Know Student Recruiting Trends for 2018 and find out what was discovered in the #UKTweet This!
Graduate Programs
In whole, UK students are interested in doing a graduate program. Business students most want business integration, development and mentorship. On the other hand, Engineering/IT students value development, mentorship and variety of rotations.
After Graduation
After graduation, UK students most want to work for an international company/organization or to continue studying. When it comes to size of employer students prefer, we see differences between genders. Male students prefer macro employers (1000+ employers) whereas female students would want to work for a medium-sized employer (100-499 employees).
Ideal Employers
The biggest reason that students do not pick companies as ideal employers is because they do not know enough about them, followed by the feeling that they are not qualified to work there and that the jobs tasks are not appealing.
WCN sought to examine the key findings identified by Universum and analyzed 350,000 graduate applications spanning financial services, public sector and retail employers.
Before revealing the results noted by the WCN investigation, it is helpful to understand more about the preferences of 8,677 business students surveyed by Universum.
The top 5 most attractive attribute preferences for UK recruiters are high future earnings, professional training and development, having leaders who will support development, clear path for advancement and having a creative/dynamic workflow environment. This is also evident from what students say they want to do most after graduation in Figure 4.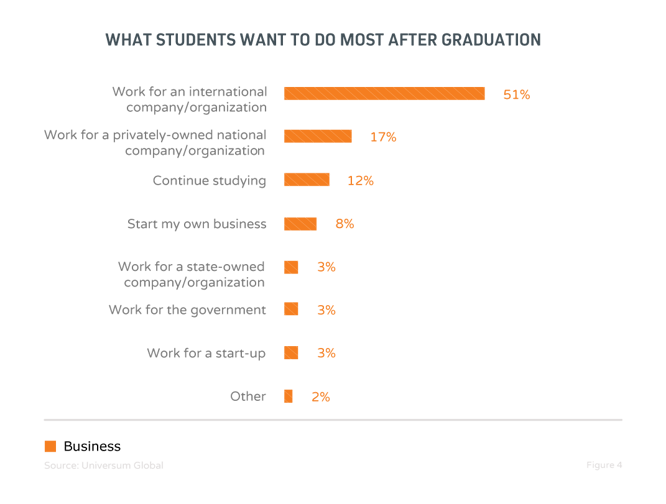 The Application Trends in The UK Market Match These Student Aspirations. Across The Sectors, WCN Results Reveal The Following:
Wondering why #UK students choose one company over the other? Find out in @WCN_eRec's Must-Know Student Recruiting Trends for 2018 report.Tweet This!
Although the numbers of graduates in the UK being hired is showing year- over-year increases, competition to join a dedicated program is intense. The biggest recruiters are seeing between 30-60,000 applications a year and only one or two percent reach the offer stage.
Males dominate the gender mix across all sectors both in terms of applications and hires. The numbers of females being hired in 2017 overall is increasing, but there is still large statistical gaps.
The use of screening is less prevalent in the UK than in other global markets. For the most part, UK employers only halve their applicant numbers using screening with few exceptions.
Decline rates in the UK are lower than other nations, as are reneged offers and application withdrawals indicating candidates are largely invested in a future employer once they feel they would be a natural fit into the business.
Analysis on the universities where successful students come from shows some level of unconscious bias. On average, three quarters of successful applicants were from one of the 24 elite universities who are members of the distinguished Russell Group. More could be done here to expand sources, find diamonds in the rough and improve diversity.
For recruiters who report on ethnic minority using the WCN system, the data analyzed shows large gaps in the numbers of applicants classifying themselves as 'Black' in the UK (only around 20% are successful) compared to the larger numbers of White or Asian successful candidates.
As noted in the introduction of this report, we have also looked at the migratory patterns of applicants stretching over 200 countries. From the data scrutinized for the UK, we found that between 40% and 50% of applications come from candidates living outside of the United Kingdom. Interestingly of these candidates, the success rate is also in the high forties – despite uncertainty driven by Brexit. Figure 5 shows a heat map showing this international split.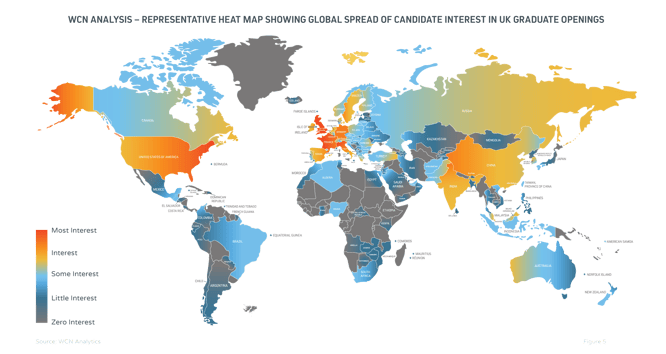 How can employers be better at engaging these applicants and being sure that they are winning the war for talent? Universum research looked at the most used and most effective communication channels and found the top 10 consisted of the types shown below.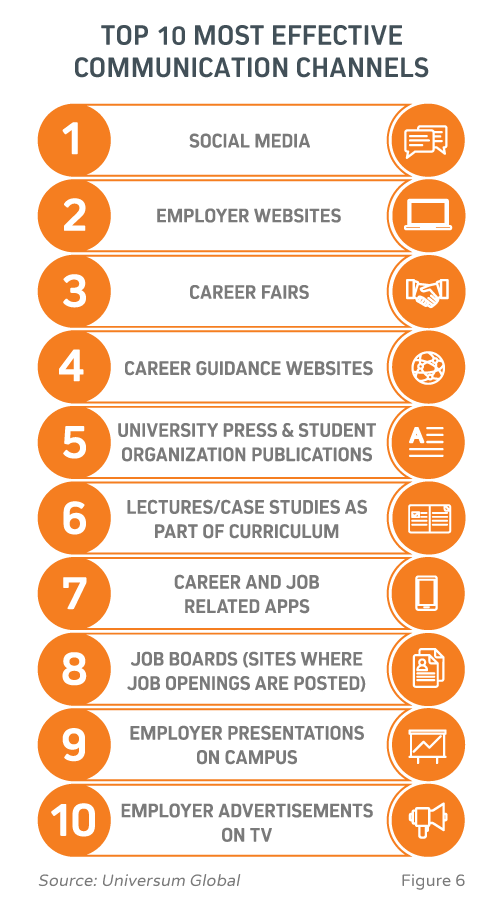 Career goal messages around work/life balance, job security and stability and the ability to become a leader or manager of people with an international career possibility were the most highly desired among business students. This was reiterated by leading employers in the UK.
"We are definitely seeing increased competition to start attracting talent early, the best is invariably snapped up long before they have finished their degree or have entered their final year. Students are more switched on than ever before and have access to more information on organizations and industries than ever before."
- Helen Alkin, Marks & Spencer | Recruitment Manager, Graduates, School Leavers and Customer Assistant
"The need to build stronger employer brands at universities has never been more important in helping candidates want to work for your business. At Morgan Stanley, we have used themed campaigns to take learning from digital interactions and devote attention to running more events outside the busy autumn cycle with some regions also pushing up their recruiting timeline. These crucial school outreach events and programs help pipeline into spring and summer analyst schemes. Interacting with promising talent earlier has helped - and continues to help - increase applications to the Morgan Stanley campus programs and also helps the firm to build on its brand awareness and diversity intakes aligned to operational goals."
- Stephanie Ahrens, Morgan Stanley | EMEA Head of Talent Acquisition
Strong candidate experience is crucial if employers are to secure the candidates they most desire and build strong talent pools to secure the future leaders it needs to prosper in the coming decades. One firm using a strong engagement strategy to secure students is nucleargraduates, designed and created by the
Nuclear Decommissioning Authority - a public body set up by the Government to ensure the safe, accelerated and affordable clean-up of the UK's civil nuclear legacy. This is explained further in the following case study. Newton Europe is another business that actually wanted to increase its
applications without sacrificing candidate quality.
MINI CASE STUDY – NUCLEARGRADUATES
Nucleargraduates runs an extensive recruitment process using the WCN ATS and needed to make it highly engaging and as straightforward as possible. This included bespoke application forms & online tests for candidates to provide information on academic qualifications and work experience as well as verbal, numerical and logical reasoning and situational judgment questionnaires.
Successful candidates can then complete a 15 minute online video interview at a time / location convenient to them on any device before being invited to a two day assessment center with feedback recorded at every stage.
Complementing the application journey, nucleargraduates makes sure to reach out to students in their talent bank with a 'Footprints' CSR program that allows graduates to 'give something' back / fulfill their sense of civic duty. The process is designed to allow top candidates to develop their own program to suit their individual needs / desires by offering a variety of work, training and experience and the opportunity to build network of contacts / exposure. For a lucky few, international opportunities and professional development is also on offer.
The benefits are starting to be felt across the organization, with reductions in
several areas including:
Nucleargraduates reduced their administrative costs by 80%
Around 90% of graduates complete the program and stay working within the UK nuclear industry management
Award winning – consistently voted as one of the UK's best graduate programs (Guardian UK300 and TheJobCrowd)
An increase in the number of sponsors and graduates
ROI – £78.8m, equivalent to £4 for every £1 spent
Download The Must-Know Student Recruiting Trends for 2018 report and investigate this trend further to see how current recruiting insights can be improved upon by looking to engage and influence the best hires before competitors by devoting more time on focused value add activities.