To get a idea of the challenges faced in the United States, we first looked at the local insights observed by Universum's expert teams. Check out the findings below!
United States Findings
The Best
Both sexes score their academic performance similarly, with 8% of each rating themselves as a 10/10. But, men place 15% more value on performance recognition (meritocracy) and 8% more on an employer's recruiting only the best talent. Women emphasize an inclusive, respectful environment to a much greater extent.
The Brightest
High academic achievers prioritize a challenging career 12% more than their lower-achieving counterparts. Those counterparts are 8% more likely to say that secure employment is a top long-term goal.
What's going on with #recruiting in #US? Download @WCN_eRec's Must-Know Student Recruiting Trends for 2018 and find out!Tweet This!
The Soon to Graduate
Students graduating in 2017 place far more value on supportive leaders (+13%) and training/development (+10%). They are also more likely to say that consulting, financial services, and media are preferred industries.
By contrast, those who will graduate in 2021 are much more focused on innovation (+13%), high future earnings (8%), and challenge (+7%). They are also more likely to say they want to work in more specialized industries, including engineering/ manufacturing, aerospace/ defense, and software.
WCN sought to examine the key findings identified by Universum by analyzing 387,000 graduate applications across its US client base.
Before revealing the results noted by the WCN investigation, it is helpful to understand more about the preferences of 26,809 business students surveyed by Universum.
The top 5 most attractive attribute preferences for US recruiters are having leaders who will support development, having a creative/dynamic workflow environment, high future earnings, clear path for advancement and professional training and development.
This is also evident from what students say they most want to do after graduation in the graph on the right.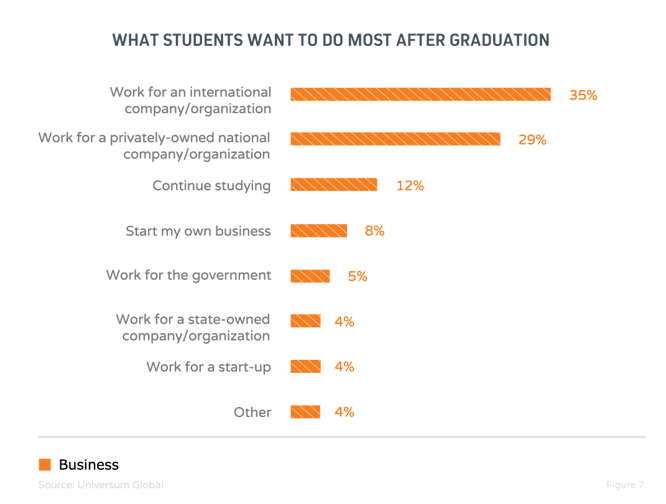 The Application Trends in the Us Market Match These Student Aspirations. Across the Sectors, WCN Results Reveal the Following:
Graduate opportunities in the US attract the most applications in the world – some firms are attracting up to 90,000 applications in total across several different program types (intern, co-op, graduate, seasonal placements, etc.).
Screening is used to cut shortlists down to a third of applications consistently across firms.
Female hiring is increasing as are the number of applications, but male numbers significantly outperform these.
Competition is huge and candidates are constantly considering offers. Decline rates are highest for these roles signaling a pressing need for more engagement. However, withdrawal rates are the lowest.
When looking at the proportion of Ivy League universities against placement of services, an average two thirds of hires were not from the 8 elite universities in the US, indicating a good mix of campuses/schools sourced from across the US.
For recruiters who report on ethnic minority using the WCN system, the data analyzed shows large gaps in the numbers of applicants classifying themselves as 'Black' and 'Hispanic' in the US (only around 15% are successful) compared to the larger numbers of White or Asian successful candidates.
What do students in the #US want to do after they graduate? Find out in @WCN_eRec's Must-Know Student #Recruiting Trends for 2018 report.Tweet This!
As noted in the introduction of this report, we have also looked at the migratory patterns of applicants stretching over 200 countries. From the data scrutinized for the US, we found that no more than 20% of applications come from candidates living outside of the United States. Interestingly of these candidates, the success rate is high amongst Canadians but other countries are not as successful at having students employed in the US. Figure 8 shows a heat map showing this international split.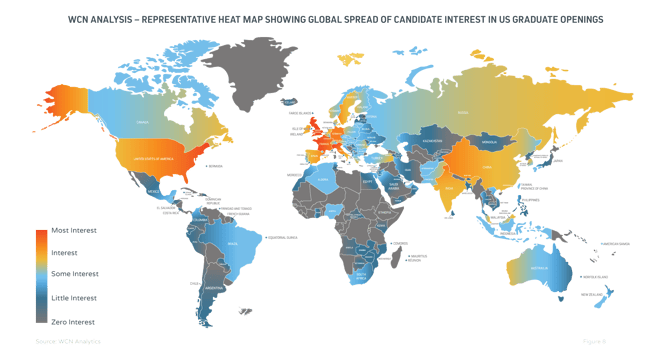 How can employers be better at engaging these applicants and be sure that they are winning the war for talent? Universum research looked at the most used and most effective communication channels and found the top 10 consisted of the types shown below.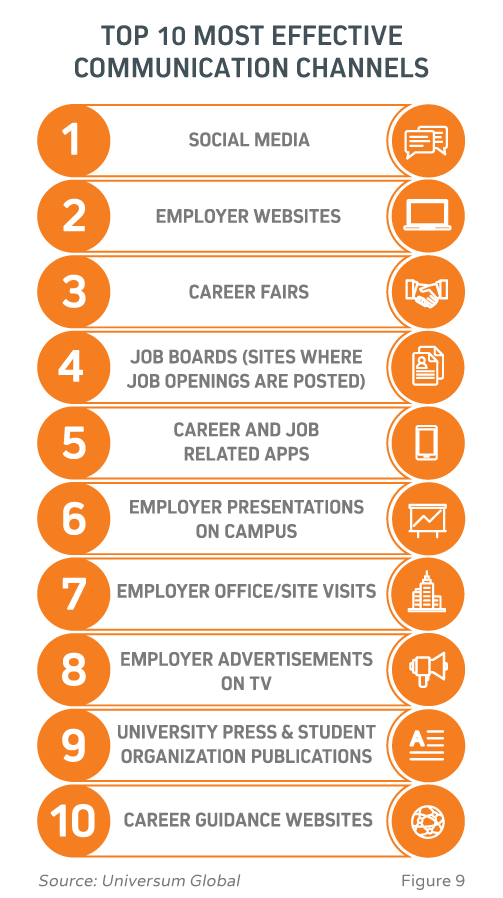 Career goal messages around work/life balance, job security and stability and the ability to become a leader or manager of people, to be dedicated to a cause or to feel that they are serving a greater good and to be entrepreneurial or creative/innovative were the most highly desired among business students.
This was reiterated by leading employers in the US. At WCN, we have seen lots of fantastic improvements across our client base from facilitating intuitive application forms to allow for increases in applications to improving the ease of scheduling interviews and enabling a 92% increase in interviewed candidates in some cases.
"The need to be more creative and demonstrate company values as well as good role descriptions has never been so vital. It's no longer just notoriety of brand names that gets the best candidates interested in your business. Students want to be networked with and made to feel welcome from the start of a process right the way to the end. The more inclusive and career-focused you can demonstrate to be, the better." - Seldric Blocker, NBCUniversal | Director; Talent Acquisition - Campus Programs
"Screening is a necessity in today's competitive graduate hiring landscape but what's changed is the need to be more creative and dynamic as to how you go about doing this. It isn't just about having a reject button – employer reputation is far too important for it to be as negative as this. Nowadays, you have to be interactive in everything you do aligning yourself to the way candidates communicate. Immerse them into your world and results will surely follow." - Jon Steel, WPP | WPP Fellowship Director
Engagement is also achieved through making Superday organizing much easier and faster, helping to facilitate greater con dence in quality of candidates and subsequent increases in the number of hires. WPP is an example of a form that has put candidate experience at the forefront of its hiring processes and seen dividends back as a result, as demonstrated in this case study.
Mini Case Study – WPP
WPP is the world's largest communications services group, employing 190,000 people working in 3,000 offices in 112 countries. Comprising of industry-leading companies around the world, the group offers a comprehensive and integrated range of communications services. Due to the uniqueness of the program and WPP's strong employer brand, its Fellowship program receives between 1,500 and 2,000 applicants each year. WPP needed an application system that would handle high volumes of applications and utilize multimedia technology to whittle these down to around one hundred for first interviews.
Intelligent Talent Acquisition software supplier, WCN was able to offer this solution through its partnership with video recruitment provider Cammio, making video interview functionality available and offering a seamless candidate pre-screening workflow to increase recruitment efficiency.
Using video, the new system incorporates a personality and creativity component into the earliest stages of the screening process, making it easier for the recruiting panel to gauge if an applicant has an engaging personality to fit into the marketing and communications business, where while intellect is important, in isolation it is not enough to guarantee success. Good applications have to feel akin to a stimulating conversation with an interesting, interested person.
As a result, the form is able to more tightly de ne its criteria for whittling down thousands of applications to the 250 or so best applications, and then use this to shortlist more harshly on that group to further reduce the numbers. The intelligence pooled from the WCN system and impressions garnered from Cammio video interviews enabled WPP to benefit from a more efficient process while making more informed choices about who should move forward in the process. The final selection process has been reduced to several days as opposed to several months.
Download The Must-Know Student Recruiting Trends for 2018 report and investigate this trend further to see how current recruiting insights can be improved upon by looking to engage and influence the best hires before competitors by devoting more time on focused value add activities.
Download The Must-Know Student Recruiting Trends for 2018 report and investigate this trend further to see how current recruiting insights can be improved upon by looking to engage and influence the best hires before competitors by devoting more time on focused value add activities.